Descendants of Peter Koutecky / Petr Koutecký
Last Updated September 2, 2009 -- Added link to Koutecky Families in America web page
českého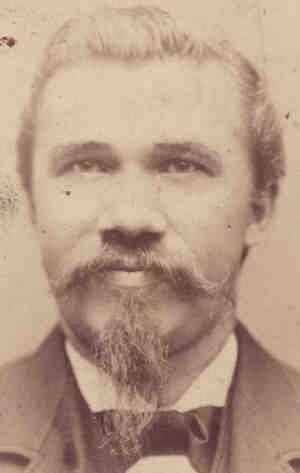 Petr KOUTECKÝ
(1851-1936)
Welcome! I really wanted a web site that would make available the original source images that I have gathered and show how they tie into the specific information in the family tree. I could not find any good software that supported that. So this is a sub-optimal solution. I have used Legacy Family Tree to generate the web pages showing Peter's descendants and the related information and source text. However, I made the following modifications:
For privacy reasons, I eliminated information on anyone born after 1930.
Peter's childhood family and ancestors (other than parents) are not included here. He had at least two brothers: (1) Karel Koutecky who was a sponsor at the 1877 christening of Peter & Marie's daughter Bozena (Bessie) Koutecky and (2) one who may have been named Josef who remained on the property at Modrejovice 17 and whose descendants are still there. Marie had at least one sister: Bozena Johajova was the sponsor and namesake at the 1877 christening of Bozena Koutecky. Other than the parents of Peter & Marie, I have no other ancestors for them.
Peter definitely had relatives who came to America after he did. Click here to see my Koutecky Families in America web page.
Bohuslav Koutecky sent me the address of his Czech-language Koutecky web site that traces the earliest history of the Koutecky family. The family originated in Sanov (S with a klicke over it - so sounding like sh - Schanowa on Austrian German maps), west of Rakovnik. The four sons of Tomas Koutecky (born 1624 at Sanov and all four sons born at Sanov) went their separate ways, creating the branches of the Koutecky family in the Czech lands. The oldest son Jiri (George, born 1647) stayed at Sanov. The second son Vaclav (James, 1649) was Bohuslav's ancestor and moved his family to Zavidov. The third son -- our ancestor -- Jakub (born about 1650 at Sanov) came to Modrejovice about 1702-1707, though his first three children (the oldest of whom was his son Ondrej) were born at Sanov. The fourth son Ondrej (about 1658) moved his family to Krakow, Poland. Jakub settled first at Modrejovice and some of his descendants then settled at Rousinov. So we are indeed related to the Rousinov Kouteckys.
You will need to use Internet Explorer to access the web site, either in the original Czech version or in the Google "English" version. It will not work at all if you use Firefox as your web browser. To access the Google translation into "English", click here. I recommended open two browser tabs or windows, one with the Czech version and one with the "English" version, since Google messes up the formatting in the "English" version.
The key page that shows the sons of Tomas and their migrations is the one that you reach by first clicking on the "Pedigree" (Rodokmen) link on the main page and then on the "Nejstarti data" link (with the dates 1512-1614 above it) at the top of the pedigree/family tree page.
Click here for an explanation of the Koutecky name spelling variants.
Click here to return to my main family history page.
---
Table of Contents
Pedigree Chart for Petr KOUTECKÝ
Surname List
Index of Names
Sources (Bibliography)

---
Contact Information
Send E-mail to wwjohnston@aol.com
Send mail to:
Walter Wesley Johnston
1865 Herndon Avenue, Suite K-187
Clovis, CA 93611-6163
(559) 299-3406
---
Table of Contents | Surnames | Name List | Main Family History Page
This Web Site was Created 27 Feb 2009 with Legacy 7.0 from Millennia. However, this main page had been customized after that initial creation.