Camille-Léonie Doncieux
Last updated November 16,2010
Bookmark this page as http://www.wwjohnston.net/wj/camille.htm
Stuck in someone's frames? Click here to break out.
This page is intended to provide information and web links about Camille Doncieux, the model, later mistress, later first wife, of Claude Monet. I have been fascinated by her life and death, ever since first seeing the haunting portrait of her that he painted on her death bed, "Camille sur son lit de mort." I do not find that she was particularly attractive, but the more that I have learned about her the more tragic her life and death become. I do not find any web pages focusing on her. So I am starting this meagre effort.
---
Events in the Life of Camille Doncieux
1866 - living with Monet at Sèvres, where he paints "Women in the Garden", in which all four women are Camille
1867, August 8 - Birth of son Jean Monet; financial problems lead Claude Monet to leave Camille in Paris while he lives with his Aunt at Ste-Adresse
1870, June 28 - Marriage to Claude Monet, with Gustave Courbet as best man
1875 - she becomes ill
1878 - Birth of son Michel Monet; her health weakens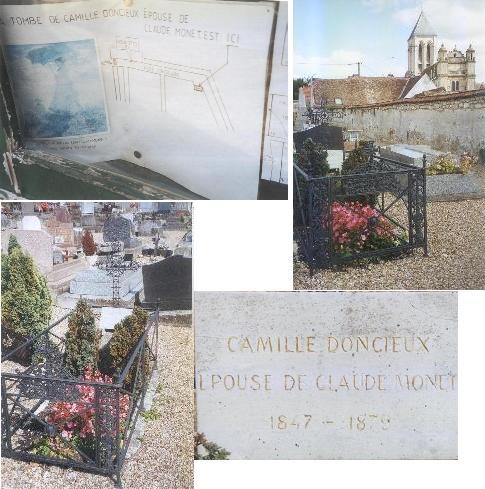 Camille's grave at St. Nicholas church yard in Vétheuil
---
Some of the many Paintings of Camille Doncieux
By Claude Monet
By Other than Claude Monet
---
Copyright © 2010 by Wesley Johnston
All rights reserved
---