Koutecky Families in America
Last Updated March 8, 2010 -- Major Update, plus several new families
českého
This web page contains what I have learned about the different Koutecky (Koutecký) families that came to America. I have found the following families, all of whom had come to America by World War I, with the apparent exception of the Calgary Kouteckys. I am descended from Peter Koutecky, who is the first that I know of to come to America.
Before going into the American Koutecky families, I want to direct readers to Bohuslav Koutecký's Czech-language Koutecký web site that traces the earliest history of the Koutecký family in Bohemia. The family originated in Šanov (S with a klicke over it - so sounding like sh - Schanowa on Austrian German maps), west of Rakovnik, with Tomaš Koutecký (born 1624) being the earliest definite ancestor. His sons went their separate ways, creating the branches of the Koutecký family in the Czech lands.
The oldest son Jiři (George, born 1647) and his sons stayed at Šanov, except for his 1707 son Jakub who moved to Modřejovice.
The second son Václav (James, 1649) was Bohuslav's ancestor and moved his family to Zavidov.
The third son Jakub (born about 1650 at Šanov) came to Modřejovice about 1702-1707, though his first three children (the oldest of whom was his son Ondřej) were born at Šanov. Some of Jakub's descendants moved to nearby Rousinov.
The fourth son Ondřej (about 1658) moved his family to Krakow, Poland.
You will need to use Internet Explorer to access the web site, either in the original Czech version or in the Google "English" version. It will not work at all if you use Firefox as your web browser. To access the Google translation into "English", click here. I recommended opening two browser tabs or windows, one with the Czech version and one with the "English" version, since Google messes up the formatting in the "English" version.
The key page that shows the sons of Tomaš and their migrations is the one that you reach by first clicking on the "Pedigree" (Rodokmen) link on the main page and then on the "Nejstarti data" link (with the dates 1512-1614 above it) at the top of the pedigree/family tree page.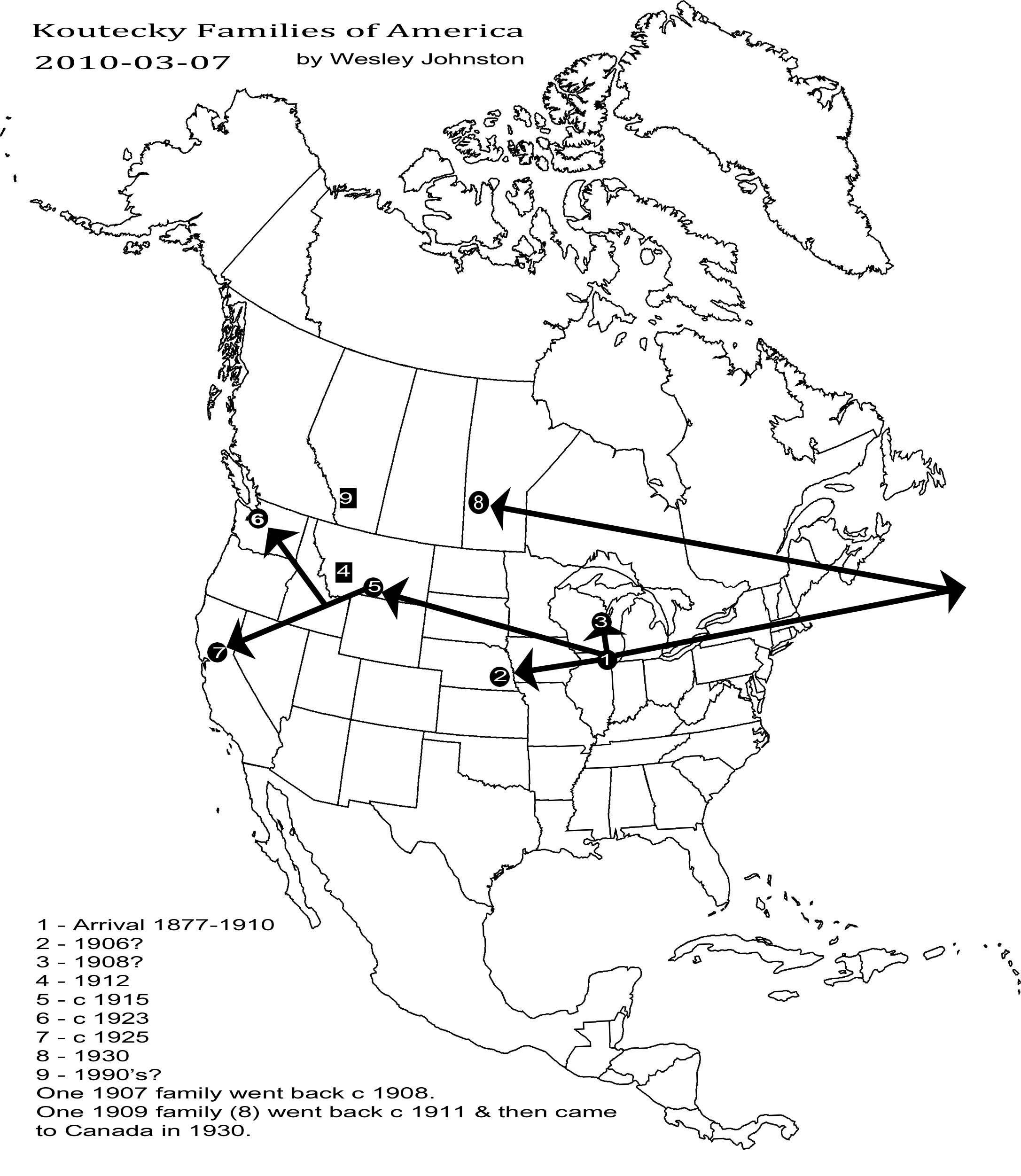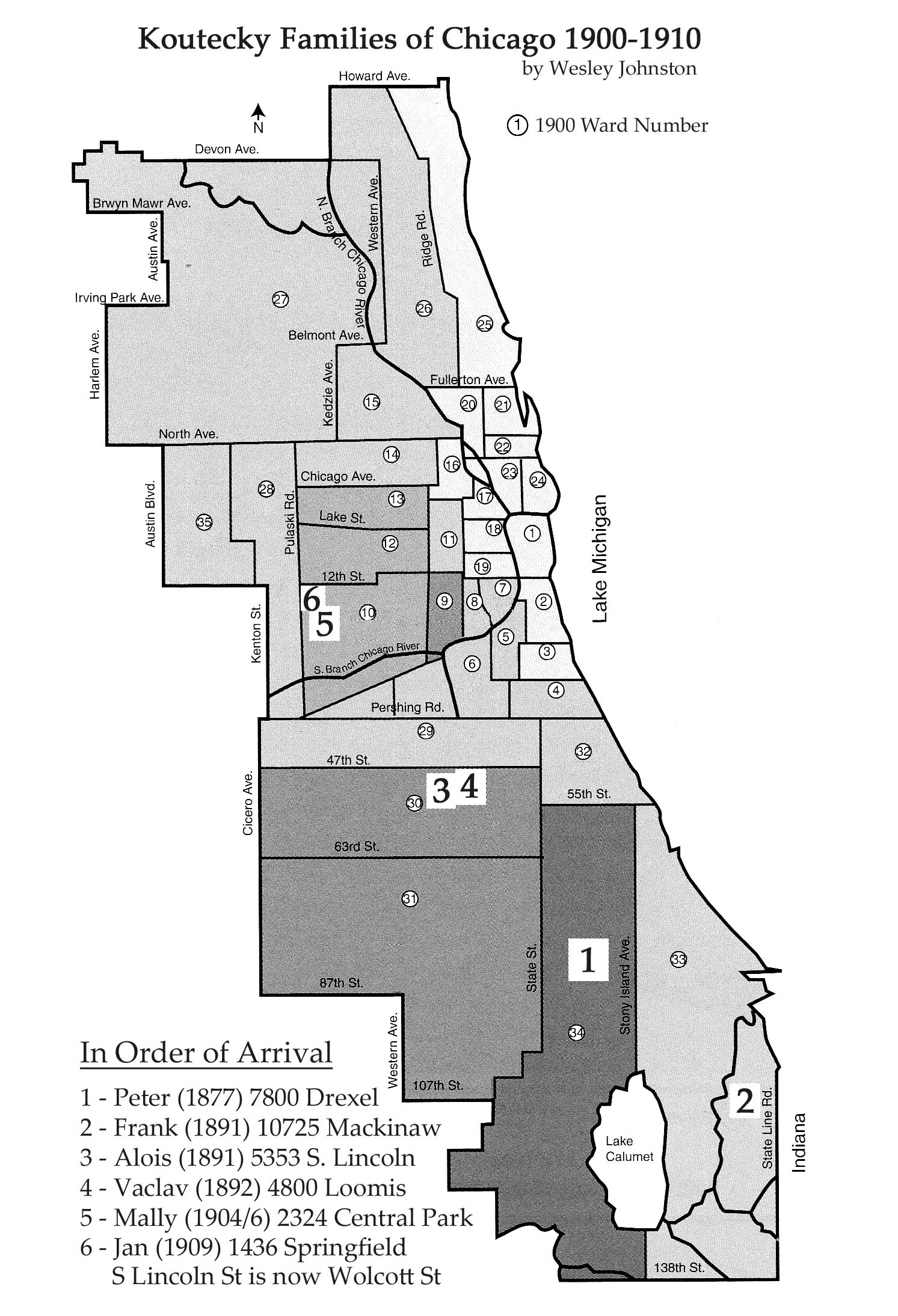 Click on either map to see it full size.
1877 Chicago - Petr Koutecký (1851-07-30 - Modřejovice 17) North America Map: #1, 5, 6, 7 -- Chicago Map: 1
My ancestor Petr Koutecký is the first Koutecký family that I know of. He brought his wife Marie and infant daughter Bozena to America very soon after Bozena's birth (1915-11-15 Radnice). They came to Chicago, where they had four more children, three of whom died. Marie died 1884 with the birth of her final child. Only Bozena ("Bessie") and Jindrich ("Henry Harry") survived. Peter remarried to Katerina Marek, and they had five children, three of whom survived (Emma, Otto, Elsie). They lived in Grand Crossing at 7800 Drexel. Bessie (Kubicek) and Henry moved first to Montana (#5 on the North America map). Then Harry's family went to Washington state (#6 on the North America map) and Bessie's family went to California (#7 on the North America map). Emma (Vlazny) and Elsie (Subert) remained in Chicago. Otto married but had no children; he made at least a couple of trips back to Bohemia and died in Cincinnati (as far as I know).

1891 Chicago - František Koutecký (1874/5-05 - Modřejovice 17) North America Map: #1, 3 -- Chicago Map: 2
I am not really sure whether František or Alois was next. They both arrived in 1891, but since František was the nephew of Peter (son of Peter's brother Karel), I am listing him as second until I learn otherwise.(I have not yet found his departure or arrival records.) He went by the name Frank in America, though also referred to as Franz in some records. He married Rozarie Hosek in Chicago 8 Apr 1894. They had three known children: Karel/Charles, Rose (married Griebel), and Frank M. Koutecky. They lived on the East Side, at 10655 Mackinaw and then 10725 Mackinaw. Rose died sometime in the period 1903 - early 1906, and František remarried 16 Jul 1906 with Marie Kolar. Frank died 18 Feb 1908, and all three children were sent to Milladore Township in Wisconsin to live with Rose's brother Frank Hosek's family. Charles and Rose returned to Chicago, where Rose married Alfert Griebel 28 Mar 1916. The younger Frank liked Wisconsin and met his wife on the army canteen making line at the Mirro Aluminum Company. They married and settled in Manitowoc, Wisconsin (#3 on the North America map).

1891 Chicago - Alois Koutecký (1871-08-26 Motyčin, father from Rousinov) North America Map: #1 -- Chicago Map: 3
The next family to arrive was that of the brothers Alois (Louis) and Václav (James) Kouteck&yacute. I have not yet seen records that connect their father to Rousinov, but since Rousinov is only 2 miles from Modřejovice, they may have been related fairly closely to Peter. Alois was the first to come, departing Hamburg 3 Apr 1891 on the &quto;Columbia" and arriving in New York (where I have yet to find his arrival record). He married Anna Kramerius in Chicago 15 Oct 1893. By 1900, they and their 4 children (Marie/Mary [married Triska], Anna [Herda[, Louis, and James) were living at 5353 Lincoln (Lincoln Street is now Wolcott), where they remained for many years.

1892 Chicago - Václav Koutecký (1867/8-03 Motyčin, father from Rousinov) North America Map: #1 -- Chicago Map: 4
Václav (James) was the older brother of Alois. He arrived in 1892, but I have not found his departure/arrival records. He married Anna Smejkal 17 Sep 1893 in Chicago. They had at least 4 children, of whom 3 survived to marry: Anna (Kadlec), Ludmilla/Lily (died age 3), Ludmilla/Lillian (Baker), and Milada/Mildred (Swetman & Myers). They moved fairly often but stayed in the area of 48th and Loomis in Chicago in 1900-1910. James' daughter Anna (Kadlec) Koutecky graduated from the University of Chicago, where she worked in the Hull House-connected settlement house. She and her husband eventually moved to Kentucky, and Eastern Kentuck University has an extensive web site of her papers and photos (hundreds): click here to see the web site.

1906 Chicago - Amalie Koutecká (c1888 - Poland, family from Bohemia) North America Map: #1 -- Chicago Map: 5
Amalie is a bit of a puzzle. She appears to have come alone and is a servant in the 1910 census, which shows her having arrived 1906 (but she said 1904 in the 1920 census). She married John Kaderka 7 Oct 1911 in Chicago, and I have found no children for them nor any record of them after the 1920 census, when they were living at 2116 South Clayton. Teri Raiford's records show that Amalie (also known as Amakla, Mally, and Emily) was the daughter of Pavel Koutecky who was born about 1864 in Novostavy near Rovno, Poland and that Pavel was the cousin of Jan Koutecky (below) who arrived in Chicago in 1909 and eventually settled in Winnipeg, Manitoba. We have not yet determined where this branch of Kouteckys originated in Bohemia.

1906 Chicago & Nebraska - Václav Koutecký (1886-08-23 - Modřejovice 17) North America Map: #1, 2 -- Chicago Map: 2
Václav (James) Koutecký was the brother of František (1891 above). Both were sons of Karel, brother of Peter (1877 above). Václav departed Hamburg 3 Jan 1906 aboard the "Amerika" and landed in New York 14 Jan 1906. He said that he was going to join his brother "Franz" at 10725 Mackinaw in Chicago. By 1908, James had a son born in Nebraska (#2 on the North America map). I do not know if he married his wife Anna in Chicago or in Nebraska. In 1910, they lived in Bismarck Township (Cuming County). In 1920, they were in Franklin Township (Butler County). In 1921, James was renting 160 acres in Middle Creek Precinct (Lancaster County). In 1930, they had moved to Omaha. James and Anna had at least 4 children, of whom 3 survived to adulthood: Charles, an infant who had died by 1910, James, and Edward. Both Peter's family in Chicago and Karel's family at Modřejovice 17 had correspondence and photographs from James' family.

1907 Chicago & returned to Bohemia - Anna (Koutecká) Vyskočilová (c 1884 - Modřejovice 17) North America Map: #1, arrow to Europe -- Chicago Map: 2
Anna Koutecká was the sister of Václav (1906) and František (1891 above). All were children of Karel, brother of Peter (1877 above). Anna married Josef Vyskočil about 1904. They had a son Josef in 1905 and apparently moved to Podmokly, which is interesting because it is only 2 1/4 miles (4 Km) from Dolany (1912 below) and 3.5 miles (5.5 Km) from Anna's home in Modřejovice. On 9 Apr 1907, with Anna 7 months pregnant and a 15 month old son, she and her husband departed Hamburg aboard the "Pretoria", landing in New York 24 Apr 1907. As had Václav upon his arrival in 1906, they said that they were going to join her brother "Franz" at 10725 Mackinaw in Chicago. That is the same address where Anna's daughter Anna Vyskočilová was born 26 May 1907. For some reason, they returned to Bohemia. And it was there, at Modřejovice 17 in 1981, that I met the 1907 baby, Anna (Vyskočilová) Korfová, then a woman of 74, who was excited to tell me that she had been born in Chicago. It took me 29 more years, but I have now found her birth register entry in Chicago, as well as the 1907 records of her family coming to America.

1909 Chicago & returned to Poland - 1930 Manitoba - Jan Koutecký (c 1880 - Poland, family from Bohemia) North America Map: #1, arrow to Europe, 8 -- Chicago Map: 6
Jan was a cousin of Pavel, the father of Amalie (1906 above). The family came to Chicago in 1909 from Poland. I have not found their departure/arrival records. We do not known where this branch of the family lived in Bohemia before going to Poland. The first record I have of this family is the 1910 Chicago census. They lived at 1436 S. Springfield: Jan & his wife Karoline (Tuček) & her sister Anna, with Jan & Karoline's children Joseph, Emil & Amalie. Later that year, Karoline gave birth to Jaroslav (Jerry). At his 8 Jun 1928 arrival aboard the "Mauretania" in New York to visit his Chicago relative Rudolf Tuček, Jerry gave his birth as Chicago 27 Sep 1910. However, the family records have him as 27 Oct 1910. I have not been able to locate a civil birth record for him. He was probably baptized at the First Bohemian Baptist Church (1609 Throop Street), since that is where Amalie was married in 1911, but I do not have that record either. The family soon returned to Poland, since Jan did not relish working in factories the rest of his life. They returned to America in 1930 - a much larger family. They departed Hamburg 30 Apr 1930 aboard the "Montcalm", arriving in Quebec City 10 May 1930: Jan & Karoline, their unmarried children Amalie, Jaroslav (returned from his 1928 Chicago visit), Anna, Maria & Lidia, and their married sons Emil (with wife Marie (Stanko) & son Miloslav / Milton) and Josef (with wife Alžběta (Oujezdsky)). The family settled in as farmers in the Swan River Valley (Minitonas area) of Manitoba.

1910 Chicago - Anna Koutecká (c 1884 Motyčin, father from Rousinov) North America Map: #1 -- Chicago Map: 3 North America Map: #1 -- Chicago Map: 3
Anna was a younger sister of Václav and Alois (both above). Anna's existence and presence in Chicago was not discovered until March 2010. The first record of her is her 24 Oct 1910 arrival aboard the "Cincinnati" from Hamburg in New York. She was single, age 26, and gave her mother Maria Koutecká as her origin contact and her brother Alois at 5353 Lincoln Street as her destination in Chicago. She made the voyage with Klement Abraham, age 34, single, miner, who gave his father Josef Abraham in Motyčin as his origin and contact and his brother-in-law Alois "Kotecki" as his destination in Chicago. I have found no further record of Anna. However Klement/Clement Abraham married Miss Rose Kolb 25 Apr 1914 (first marriage for both) in Chicago and lived at 5146 Lincoln Street [now Wolcott] in 1920 with their son Rudolph Abraham. In 1930, they had moved to 2539 S Turner. It is significant that in his 1918 draft registration, Clement was a laborer for Morris & Co at the Union Stock Yards. This was the same company for which Václav's daughter Anna (later married Kadlec) was employment manager.

1912-13 Montana - Antonín, Václav, Emil Koutecký (1883, 1888, 1891 - Dolany 37) North America Map: #4
The final family known to have arrived in the United States was that of three brothers. Emil, the youngest of the three, was the first to arrive, aboard the "S. S. President Grant" from Cuxhaven, which sailed 1912-10-05 and arrived in New York 1912-10-18. He is shown as heading for Hanford, Montana to join his friend Frank Makowicky. Antonín ("Anton") and Václav Koutecký left 15 December 1912 and arrived in New York aboard the "S. S. Amerika" 1913-02-02. Their arrival information shows that they were going to Hanford, Montana to join Josef Makovsky (not sure of the M). Václav never married; he died 1955. Emil married Christine (surname unknown) and died 1960. I do not know if he had children. Antonín returned to Dolany in December 1924 to marry Sofie Vostry (Vostrová) (circa 1889 Senomaty) who was 35 years old. They adopted a daughter Marie (1913-01-27) who was born at Olesovice or Kolesovice, which was also the place where Sofie's brother Josef Vostry was living. John Koutecky of Conrad, MT is the only descendant of the three brothers who I know of.

1990's? Calgary - Jiři (c 1942 - birthplace not yet known) North America Map: #9
This was the final family known to have arrived in Canada. I only know about it because of the 1997 obituary of Jiři's wife Jiřina. I have found Calgary directory listings for Jiři back to 1995, but I am not sure when he actually arrived. And I do not know where he came from, though it appears likely that he came directly from the Czech Republic.
---
If you know of a Koutecky family in America that is not listed above, I would very much like to hear from you.
Click here for an explanation of the Koutecky name spelling variants.
Click here for my web page of Peter Koutecky's descendants.
Click here to return to my main family history page.
---
Contact Information
Send E-mail to wwjohnston01@yahoo.com
Send mail to:
Walter Wesley Johnston
1865 Herndon Avenue, Suite K-187
Clovis, CA 93611-6163
(559) 299-3406
---